Founders Selected as Part of the Top 50 Most Ambitious Business Leaders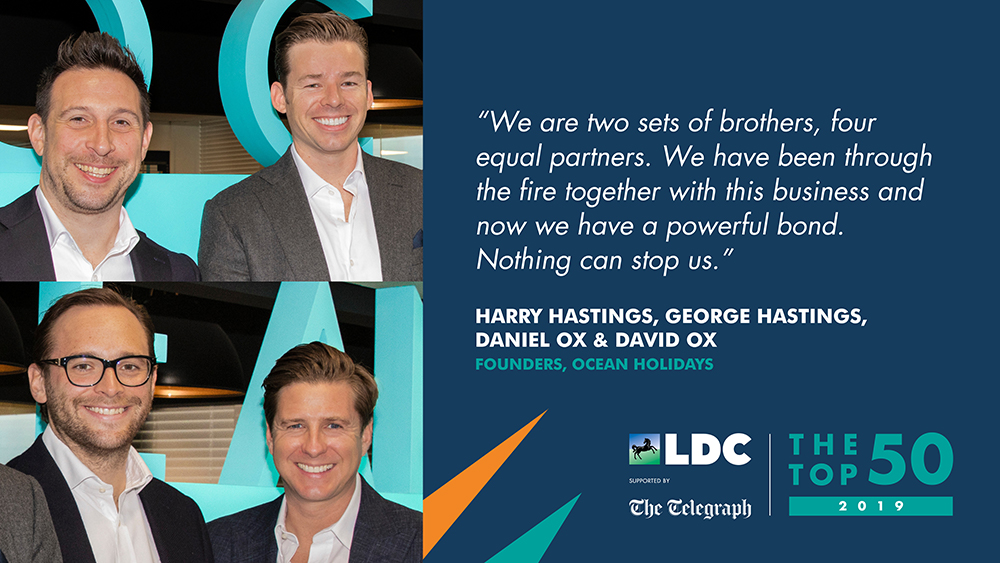 The Ocean Holidays founders are extremely excited to announce they have been selected as part of LDC and The Telegraph's Top 50 Most Ambitious Business Leaders.
In its second year, this rewarding accolade celebrates the UK's most ambitious leaders in business who inspire success and shines a light on the unsung heroes of the British Economy. The top 50 leaders will be showcased in The Daily Telegraph during the week of 30th September, with the most ambitious named at a star-studded event on 8th October 2019.
Q&A
What's your USP?
Daniel: We have built all our technology in-house; we employ 25 developers in the business. Where other companies invest in the front end, we invest in the back end. It means our agents can handle 250 enquiries at any one time. We contact customers within one minute of posting an enquiry and we'll know what they want and when they want it. No one has been able to challenge us in this niche. Ocean Florida will carry 27,000 passengers this year, and Winged Boots will carry 6,000 and we're growing 25pc a year.
For you, what is ambition?
Harry: We're already the largest privately-owned specialist – the only companies bigger than us have their own airline. We want to keep growing both our brands and we are aiming to hit £100m in revenue by 2021. But we are also excited by innovation and technology. We find it very satisfying when we do things that other people can't. We are really moving the dial in this industry.
How important have your business partners been in achieving your success?
Harry: We are four equal partners: two sets of brothers. This is a family business. We all bring different strengths and skillsets to the business and we all complement each other. We have worked together for 16 years and we have been through the fire together. That has created an important bond. No matter how difficult the decision, we always come together to make it happen.
Click here to see more about the awards
https://www.ocean-holidays.co.uk/wp-content/uploads/2019/09/blog-thumb4.jpg
247
412
admin
https://www.ocean-holidays.co.uk/wp-content/uploads/2023/02/oh-logo.png
admin
2019-09-30 09:00:22
2021-11-22 11:56:10
Founders Selected as Part of the Top 50 Most Ambitious Business Leaders