20th May 2020
Travel Advice
3rd February 2020
Ocean Holidays Hires First Group Marketing Director
Former Love Holidays and Tui marketing boss Christian Armond has been appointed by Ocean Holidays Group as its first marketing director.
Armond joins the Essex-based destination and luxury holidays specialist having left OTA Love Holidays last October after a year as marketing director.
Prior to that he worked in digital marketing at Tui for just over four years, latterly as head of digital marketing overseeing SEO, PPC, display, affiliates, and biddable social.
Ocean Holidays comprises consumer brand Ocean Florida and upmarket concierge operator Winged Boots, which Armond is tasked with drive continuing growth for.
He will also oversee the B-B Ocean Beds brands, which supplies accommodation to trade partners. Armond is the first non-founder to oversee marketing for the group's three brands.
Harry Hastings, co-chief executive of Ocean Holidays Group, said: "'The next phase of our scaling-up plans will rely heavily on the success of our performance-led marketing and we are delighted to be welcoming Christian into our management team as group marketing director. He is the right leader for this new role, with the track record to match."
Armond, added: "I'm hugely excited to be joining the Ocean Holidays team, and was very impressed with the strategic vision for the business to build on Ocean Florida's position as the leading Florida specialist, and Winged Boots expertise in personalised luxury travel management"
Ocean Holidays Group has offices in Romford, Essex, and Orlando, Florida. It has seen an average annual revenue growth rate  of 30% over the past five years, surpassing £60million revenue in 2019.
30th September 2019
Founders Selected as Part of the Top 50 Most Ambitious Business Leaders
The Ocean Holidays founders are extremely excited to announce they have been selected as part of LDC and The Telegraph's Top 50 Most Ambitious Business Leaders.
In its second year, this rewarding accolade celebrates the UK's most ambitious leaders in business who inspire success and shines a light on the unsung heroes of the British Economy. The top 50 leaders will be showcased in The Daily Telegraph during the week of 30th September, with the most ambitious named at a star-studded event on 8th October 2019.
Q&A
What's your USP?
Daniel: We have built all our technology in-house; we employ 25 developers in the business. Where other companies invest in the front end, we invest in the back end. It means our agents can handle 250 enquiries at any one time. We contact customers within one minute of posting an enquiry and we'll know what they want and when they want it. No one has been able to challenge us in this niche. Ocean Florida will carry 27,000 passengers this year, and Winged Boots will carry 6,000 and we're growing 25pc a year.
For you, what is ambition?
Harry: We're already the largest privately-owned specialist – the only companies bigger than us have their own airline. We want to keep growing both our brands and we are aiming to hit £100m in revenue by 2021. But we are also excited by innovation and technology. We find it very satisfying when we do things that other people can't. We are really moving the dial in this industry.
How important have your business partners been in achieving your success?
Harry: We are four equal partners: two sets of brothers. This is a family business. We all bring different strengths and skillsets to the business and we all complement each other. We have worked together for 16 years and we have been through the fire together. That has created an important bond. No matter how difficult the decision, we always come together to make it happen.
Click here to see more about the awards
26th September 2019
In light of the news of Thomas Cook going into administration on 23rd September 2019 please find the following information
If you booked a Disney holiday with Thomas Cook
We can now offer customers affected by Thomas Cook a Disney holiday with the same requirements as their original booking, including holidays with Disney Dining plans. Our teams will simply transfer your booking from Thomas Cook to Ocean Florida, ensuring all your original bookings are honoured.
Customers rebooking their Disney holiday will no longer receive their Disney gift cards and will have to rebook extra services like FastPass+ and dining reservations using their new Disney confirmation number.
Please note: This only applies to enquiries that are requested EXACTLY as per the original booking
If you had a villa booking with Thomas Cook
Yesterday, our Orlando Welcome Centre team secured contracts with the two main villa suppliers Thomas Cook were using at discounted rates. Therefore, there is a high likelihood that we can match your existing villa booking. Contact one of our USA Travel Specialists to discuss your options on 020 7788 8254.
If you have an upcoming booking with Ocean Florida on Thomas cook flights
Your booking with us is ATOL protected so your holiday is completely safe. Our teams have been working to secure alternative flights for all customers since Monday. If you have not spoken to us yet, please call our After Sales Team on 020 3814 2198 between 9.00am and 5.30pm today. Our teams have completed all 2019 departures and will begin working through 2020 and 2021 departures.
If you have booked with another travel company but are staying in a villa or hotel provided by Ocean Holidays
Your booking with us is ATOL protected so your holiday is completely safe. Our teams have been working to secure alternative flights for all customers since Monday. If you have not spoken to us yet, please call our After Sales Team on 020 3814 2198 between 9.00am and 5.30pm today. Our teams have completed all 2019 departures and will begin working through 2020 and 2021 departures.
If you didn't book with Ocean Florida but want to rebook your USA Holiday
If you had an upcoming holiday to the US with Thomas Cook, we can help rebook your trip to ensure you don't miss out. Contact one of our USA Travel Specialists to discuss your options on 020 7939 7775 or make an enquiry.
How to rebook and reclaim
Speak to one of our USA Specialists or make an enquiry
Secure a similar package to what you originally booked
Claim a full refund for your original Thomas Cook holiday from ATOL or your credit/debit card provider if your holiday booking is protected
How we can help
We will aim to book your USA holiday for the same price as your original booking with Thomas Cook with departures available through 2021
Your new package holiday will be fully ATOL protected and booked on a scheduled airline such as Virgin Atlantic or British Airways
Our Orlando office and welcome centre is the largest Florida specialist for UK customers. We are therefore fully prepared and ready to help customers dream holidays still come true
How to make a claim
We have found that Moneysavingexpert has the most up to date and rounded guide on all other options regarding the various status' of bookings made with Thomas Cook including how to reclaim on your credit/debit card using section 75. Read more here
29th November 2018
We are incredibly flattered to announce that we have won the Overall Winner for the British Travel Awards' Best Holiday Company to the USA!
Roll up, roll up and hear the news of the world! Ocean Florida has won the Overall Winner place for a British Travel Award in the Best Holiday Company To The USA category, as well as a Bronze award for the Best Villa Holiday Company category. This is a huge accolade which has completely overwhelmed us all overnight.
We're a home-grown, family-run company who have strived to provide the most amazing USA holidays possible over the years. We are constantly grafting to improve our service, and work tirelessly to make sure that our customers are satisfied with their experience when they book with us. Our improvement this year shows, since in 2017 we won a Silver award for the Best Medium Holiday Company To The USA, and now we've won the Overall Winner for Best Holiday Company To The USA.
We are delighted for our efforts to be recognised by such a prestigious organisation like the British Travel Awards, and more importantly, our loyal customers. We send a huge thank you to customers old and new, as well as everyone who had voted for us to win this fantastic award. It really does mean a lot and has sent joyous shockwaves throughout the entire company.
Thank you so much, and here's to 2019!
Love,
Ocean Florida
10th July 2018
Ocean Holidays Win Apprentice Employer of the Year Award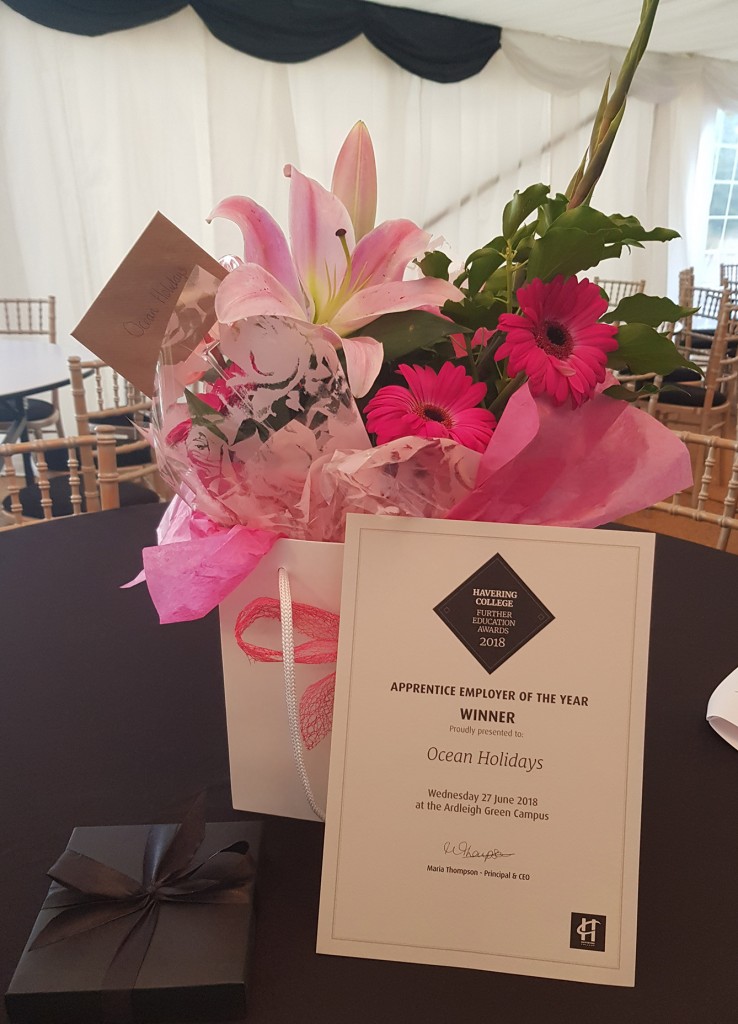 Ocean Holidays has won the prestigious Apprentice Employer of the Year Award from the Havering College of Further and Higher Education. The awards evening was held at the Ardleigh Green Campus on Wednesday 27thJune and was attended by Denise Morrison, Ocean Holidays Accounts Manager.
This rewarding ceremony celebrated those who were nominated and awarded in a range of categories. There were three companies nominated for the Apprentice Employer of the Year Award and the winner was chosen by Asfa Sohail, Vice Principal and Steve Lee, Head of Apprenticeships and Traineeships. Ocean Holidays are overjoyed to be awarded with this accolade, proving that our apprentices make a real difference to the business whilst learning the necessary skills to help them grow and develop their career.
Well done to everyone involved!
OCEAN HOLIDAYS SIGNS TWO-YEAR DEAL TO BECOME OFFICIAL TRAVEL SUPPLIER OF JACKSONVILLE JAGUARS!
- FIRST UK HOLIDAY FIRM TO SIGN DEAL WITH NFL TEAM -
Monday 13th November Ocean Holidays has signed a two-year partnership to become the official travel supplier for NFL team, Jacksonville Jaguars.
This ground-breaking partnership means customers of Ocean Florida – Ocean Holidays' Florida specialist – will be able to buy Jacksonville Jaguar NFL holidays, which include tickets and transfers to see the Jaguars at their home-ground EverBank Field, during the 2018 NFL season. This is the first time such a package will be on offer from a UK holiday provider.
Ocean Florida's Jacksonville Jaguar NFL holiday packages start from £819 per person. This is for a 14-night holiday at the Mystic Dunes Resort in Orlando, on a room-only basis, return flights from London Gatwick departing on November 8, plus NFL tickets and transfers to and from the match. Price based on four sharing. Packages will officially go on sale early 2018, in line with the release of the NFL schedule.
The Jacksonville Jaguars are the first and only NFL team to have made a multi-year commitment to play league matches in the UK. This season they defeated the Baltimore Ravens 44-7 at Wembley Stadium during the recent London Games series.
Ocean Florida and the Jacksonville Jaguars will also run a range of additional marketing activity giving UK holidaymakers the chance to win exclusive Jaguars prizes and experiences in both the UK and USA.
Harry Hastings, co-chief executive of Ocean Holidays, said: "We are thrilled to announce this exciting partnership with the Jacksonville Jaguars. The popularity of the NFL is increasing exponentially in the UK, and this deal will give NFL fans unparalleled access to tickets and experiences both in the UK and USA."
Hussain Naqi, Senior Vice President, International Development for the Jacksonville Jaguars, said "This partnership illustrates exactly what the Jacksonville Jaguars are about – collaborating with like-minded transatlantic businesses to create new experiences and opportunities that excite our fans."
"The unique service Ocean Holidays provide means that there's no better way for Jaguars fans from the UK to sample the best that Jacksonville has to offer, and to experience the energy of a game day at EverBank Field."
A key part of the partnership will see Ocean Holidays become the new official corporate travel partner to the Jaguars through its specialist luxury travel management company, Winged Boots. Its Personal Travel Managers will be instrumental in managing the team's travel needs as they travel to and from their second home at Wembley Stadium in the UK.
9th August 2017
Travel Weekly brand, 'Travolution' has featured an article on Ocean Holidays…!
With the brand new offices and constant expansion within Ocean Holidays, it's a very exciting time and so Lee Hayhurst from Travel Weekly recently visited Ocean Holidays HQ to sit down with Co-CEOs Harry Hastings and Daniel Ox to chat more about the company's growth, the roll-out of the new CRM platform and more…!
3rd May 2017
Winged Boots Moves Into Business
With the current success and growth of Winged Boots offering leisure holidays, we have organically found an increasing amount of requests for business travel.
As a result, Ocean Holidays is officially launching Winged Boots Business which will be headed up by James Kenyon our new Head of Business. This exciting new part of the Ocean group will concentrate on day-to-day corporate travel, staff incentives and rewards, group travel and prize management.
David Ox, MD and Co-founder of Winged Boots says "My team and I are very excited to see the launch Winged Boots Business and it is testament to the amazing staff I have behind me which allows us to move forward with this new challenge. Clients have grown to trust Winged Boots when it comes to their personal travel, so I'm really looking forward to representing their travel when it comes to business also."
To find out more, visit our Journal
If you have a question contact: James Kenyon, james@wingedboots.co.uk
23rd November 2016
Ocean Holidays Signs a Further Two-year Deal with the O2, London

Last month the Ocean Holidays directors were delighted to announce that the company has extended its tenancy of suite #235 at the O2 Arena in Greenwich for two more years!!
Alongside our recent excellent news regarding the West Ham sponsorship deal, this is another fantastic opportunity for the company to grow its name and establish itself as one of the big players in the market – as well as offer staff, trade partners, friends and families the chance to witness some of the most fantastic events to grace our Capital!
2nd November 2016
Apprentice of the Year – Winner!

Our very own Michaela Gordon attended a lavish ceremony the Houses of Parliament in Central London on 20th July to receive her Apprentice of the Year Award from the Institute of Travel & Tourism.
This prestigious award is a unique opportunity for employers to reward their apprentice for hard work and dedication, not just to their job role, but to their NVQ qualification over 12 months. Michaela has excelled at Ocean Holidays, proving to be an integral part of the company and for that we are extremely proud – well done Michaela!
Check out Michaela's story here…
16th August 2016
OCEAN HOLIDAYS SIGNS THREE-YEAR DEAL TO BECOME OFFICIAL TRAVEL SUPPLIER TO WEST HAM UNITED FOOTBALL CLUB

Ocean Holidays has signed a three-year partnership to become the official travel supplier for West Ham United Football Club.
The deal comes at an exciting time as the club prepares to move into its iconic new home stadium, previously used for the 2012 London Olympic games.
Ocean Holidays is run by two sets of brothers, Daniel and David Ox, and Harry and George Hastings. The award-winning company employs more than 150 people at its head-office in central Romford.
Harry Hastings, co-chief executive of Ocean Holidays, said: "We are thrilled to be supporting West Ham, our local premiership team, at this incredibly exciting time as they move into the London 2012 Olympic stadium."
West Ham United's vice-chairman Baroness Karren Brady CBE, said: "At a time when the club is expanding its global footprint, it is all the more important that we remain true to our roots. I am therefore delighted to be joining forces with a prominent local business, while continuing to grow the club's international reach.
"On behalf of all at West Ham United, I would like to welcome Ocean Holidays on board and I hope this is the start of a very successful relationship over the coming years."
Ocean Holidays' brands, Ocean Florida, Ocean California and luxury division Winged Boots, specialise in tailor-made travel to destinations all over the world. Its travel experts will be able to assist the club in ensuring all travel arrangements are hassle-free, meaning the players are able to perform to their best ability on the pitch.
Daniel Ox, Ocean Holidays' co-chief executive, added: "This is a landmark partnership for Ocean Holidays, one that we are confident will allow us to take the business to the next level, proving that businesses like ours are still investing post-Brexit."
George Hastings, managing director of Ocean Florida, commented: "Ocean Florida is Europe's largest independent Florida specialist. This, coupled with West Ham's family-friendly policy, makes this a perfect match."
The partnership forms an important part of Ocean Holidays' strategy to broaden its reach. As part of the agreement, Ocean Holidays will be screening Ocean Florida's debut TV advertisement on the new stadium's two huge indoor digital screens, the largest in any European football stadium, and the group has access to exclusive hospitality at home games. The partnership also means Ocean Holidays will be offering exclusive travel deals to supporters, players and staff across social media channels, via the West Ham website, the match-day programme and the Ocean Florida site.
Ocean Holidays' luxury division, Winged Boots, is also set to benefit from the partnership. David Ox, managing director of Winged Boots, commented: "We started out 14 years ago by organising bespoke trips for footballers and discerning city workers, and so this deal is a perfect fit for us.
"We're looking forward to entertaining key contacts, customers and suppliers at this fabulous new ground. The team at Winged Boots will also be taking care of the travel arrangements for the team for overseas pre-season friendly matches, and mid-season warm weather training."
To follow West Ham United FC this season,
visit their website, twitter or Facebook pages.
For more media information contact:
Ocean Holidays: Louise Prior, louise@priorpr.com 07786 227572
About Ocean Holidays
Ocean Holidays was established in 2004 by two sets of brothers. It is privately-owned, and has been on a 50% growth path since 2012. Ocean Holidays has sent more than 250,000 holidaymakers overseas in the past 10 years.
Ocean Holidays' headquarters in Romford, Essex comprises four distinct brands; Ocean Florida, Europe's largest independent Florida holiday specialist; Winged Boots, a bespoke travel and hospitality specialist; Ocean California, specialist in complex itineraries to the West Coast of the USA; and, Ocean Beds, the largest wholesaler of Florida vacation homes to the global travel trade and based out of Kissimmee, Central Florida.
Current and recent accolades for the company and the management team in 2016 include:
The Business Ambassador Award for job creation in Florida presented by the Governor of Florida, Rick Scott in July 2016
Winner of the 2016 Young Entrepreneur of the Year Award at the Travel and Hospitality British Hall of Fame ceremony in April 2016
Various awards and nominations from the Institute of Travel & Tourism and National Apprentice awards for services to employing apprentices aged 16 – 21
Nominated in the British Travel Awards as USA Tour operator of the year and Self-catering specialist of the year as Ocean Florida as well as luxury tour operator of the year as Winged Boots
Nominated as Tour Operator of the year in The Sun Travel awards
About West Ham
West Ham United is an East London based football club and a member of the Premier League. The new stadium is homed within the Queen Elizabeth Olympic Park in Stratford and has a capacity of 60,010, allowing West Ham to boast the highest number of season ticket holders in London. The new stadium stands adjacent to Westfield Stratford City, one of the largest shopping centres in Europe.
18th July 2016
What ATOL Protection Means For You

In light of the recent announcement regarding the Low Cost Holidays Group, we just wanted to reassure and remind you that Ocean Holidays are ATOL protected (T7523) and supported by the Travel Trust Association (U0898). This means that any booking made through Ocean Holidays, including Ocean Beds, Ocean Florida, Ocean California and Winged Boots is 100% secure.
The importance of ATOL protection needs to be highlighted now more than ever. Did you know that if you book with a company who aren't ATOL protected you could be stranded abroad or lose your money should anything go wrong? ATOL protection means you'll be able to continue your holiday as planned or receive a full refund if you haven't already travelled.
It's easy to check if the company you want to book with is ATOL protected. Look out for the following logo in brochures, advertisements and on websites.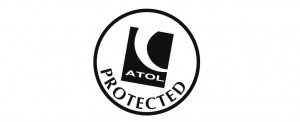 Each ATOL protected company will have a unique ATOL number which you can check over at www.packpeaceofmind.co.uk.
If you've booked through the Low Cost Holidays Group, our team of Travel Specialists are on hand to help re-book or re-protect your holiday so you don't have to miss out.
Discover more about ATOL protection in the video below…
3rd June 2016
Ocean Beds and the wider Ocean Holidays Family is featured in the Travel Trade Gazette (TTG)!
Our very own Co-CEO Harry Hastings was interviewed by Katherine Lawrey of the TTG about the exciting developments in the Florida rental home market. Read the whole article below about how Ocean Beds proudly offers exact homes as well as allocation on arrival as one of the biggest receptive tour operators in the UK and USA. Read the full TTG article below:
26th April 2016
Ocean Holidays Enters Travel Hall Of Fame
Ocean Holidays co-founder, Harry Hastings was crowned 2016 Young Entrepreneur of the Year at the Travel and Hospitality Hall Of Fame. The company has firmly secured its place amongst leading brands, innovative thinkers and hard grafters in the travel industry with its first award of 2016.
The Young Entrepreneur of the Year title celebrates the enviable success achieved by the Ocean Holidays umbrella, under which Ocean Florida, Ocean California, Winged Boots and Ocean Beds trade.
It began in 2004 with Ocean Florida, a tour operator specialising in villa holidays to the Sunshine State. Since then, the five directors – George and Harry Hastings, David and Daniel Ox and Chris Ford have focused on USA and luxury travel and have grown Ocean Holidays to include a California specialist (Ocean California), a luxury tour operator (Winged Boots) and a receptive tour operator (Ocean Beds).
Hastings said: We saw an opportunity to focus on high-volume holidays to Florida and grabbed it. Since then we've grown our expertise and built an incredible team dedicated to bespoke USA and luxury itineraries
Ocean Holidays has a growth goal of 300% and a passenger total of 100,000 per year by 2020. Winning this award is a big step in building the company's recognition and increasing its customer base across all four brands.
Hastings now sits in the Hall Of Fame amid legends of Florida travel, Sir Richard Branson and the late Sir Freddie Laker. Previous winners of the Young Entrepreneur Award also include Chris Loughlin of Travelzoo, Cheapflights' Hugo Burge, Attraction Tickets Direct's Oliver Brendon and Renaldo Scheepers, of A2B Travel Extras.
Ocean California Has Arrived!
We are extremely pleased and excited to announce that we have now launched the fourth brand that sits under the Ocean Holidays umbrella.
www.ocean-california.co.uk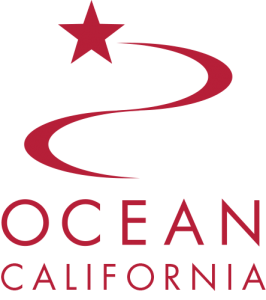 Ocean California is a dedicated California travel specialist that sells some of the best itineraries, hotels and destinations across Golden State, from the outdoor experiences of Yosemite to the cool downtown nightlife of San Francisco. Our experienced travel experts are on-hand to help individuals, couples, families and friends plan their dream California getaway!
Ocean Florida #STAYWITHUS TV Ad
We are very excited to release the Ocean Florida #STAYWITHUS TV ad. The advert launched on Ocean Florida's website and social media channels on Tuesday, 20th January, and featured on TV from Wednesday, 21st January on Sky 1
Featuring the strapline: 'Stay with us and we'll stay with you,' we aimed to reinforce the message that a Florida villa will leave families with ever lasting memories that they'll want to share for a lifetime.
Harry Hastings, Ocean Florida's Joint Managing Director, said, "Our Kissimmee villas provide a great base for a Florida holiday close to Walt Disney World Resort. They're also perfect for those wanting to combine the parks with Florida's beaches on a multi-centre holiday. With more than 10 years of sending holidaymakers to Kissimmee, we are very excited to be on UK national TV for the first time with our #STAYWITHUS campaign. We are really proud to be continuing to showcase everything this fantastic destination has to offer."
Watch our TV ad below:
Newly Expanded Orlando Welcome Centre
The 1st of April 2014 was a milestone for Ocean Holidays, moving our Orlando Welcome Centre to a brand new location in Kissimmee, just minutes away from our previous address at the Maingate Lakeside Resort.
Now, after two years and an ever-growing team in Orlando, the office has doubled in size and includes a huge welcoming front desk and waiting area, as well as several private meeting rooms and offices. Set in a hugely enviable location in the modern Rolling Oaks retail park, our offices are conveniently located next door to a larger Target supermarket (open 8am – 11pm), perfect for arriving guests to stock up on food and toiletries, before continuing onto their Orlando Villa.
Also situated within the retail park are numerous restaurants such as Bahama Breeze, Sweet Tomatoes, Starbucks and LongHorn Steakhouse. This is just the start for Rolling Oaks retail park, with continual development scheduled to take place over the next 5 years, creating not only an enhanced working environment for our USA team, but also a vastly improved experience for our clients.
This investment is just another example of how Ocean Holidays are progressing as the UK's Number 1 Independent Florida Travel specialist.
Our full address is: 3204 Rolling Oaks Boulevard, Kissimmee, Florida 34747. To take a closer look at our new location please click here. We look forward to seeing you at our new Orlando Welcome Centre when you visit on your next Ocean Florida holiday!